Electrical Installations to BS 7671 & I.S. 10101
(Eighteenth Edition IET Wiring Regulations & Fifth Edition NSAI Wiring Rules)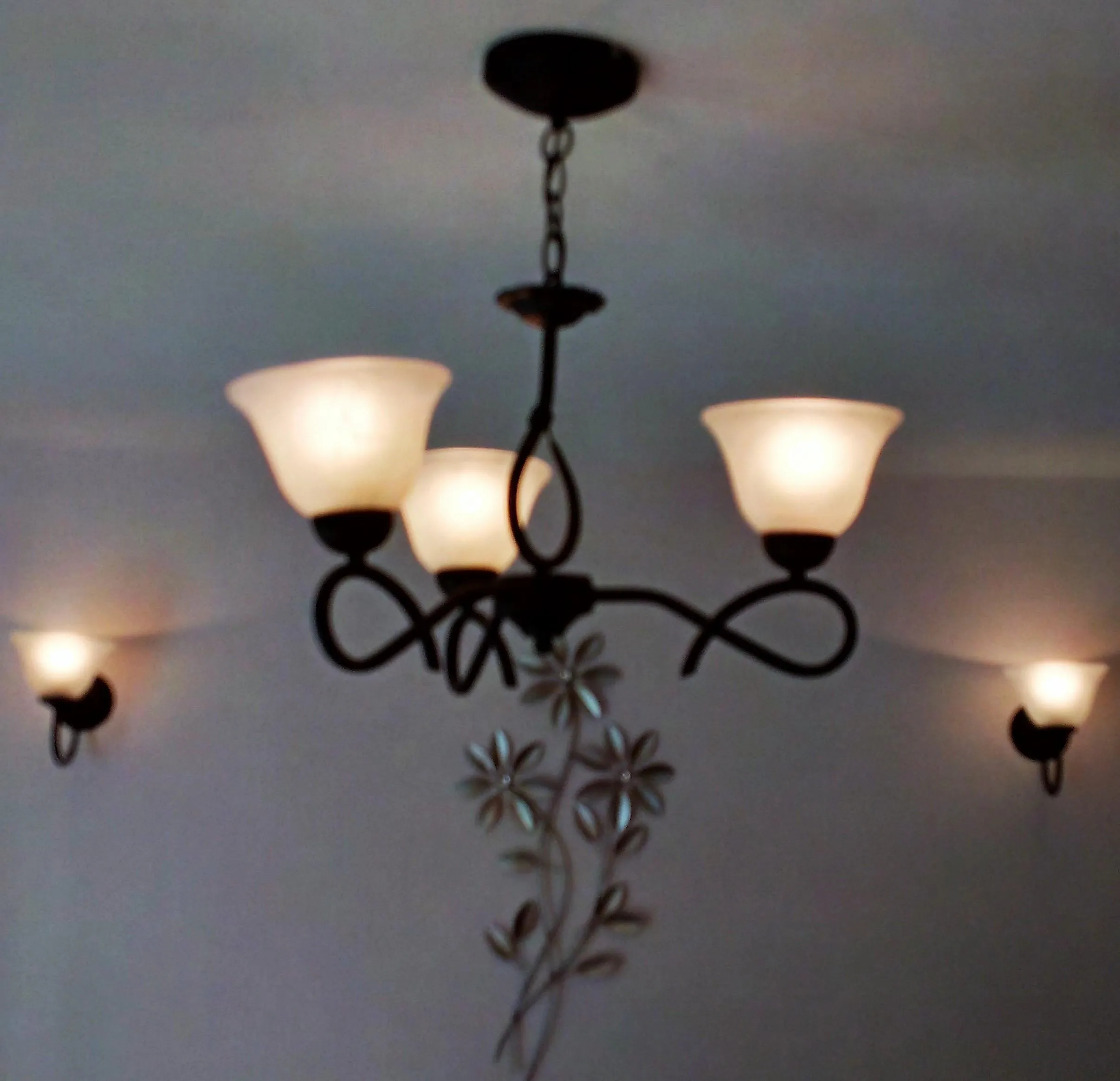 We at Walsh Electrical Services carry out electrical installations of whatever scale and complexity to both the IET Wiring Regulations (also known as the IEE Wiring Regulations) and to the NSAI National Rules for Electrical Installations. Work in the north, e.g. in Derry, is carried out in accordance with BS 7671:2018 (2022) – the IEE Wiring Regulations – and work in the south, e.g. in Buncrana (including both Controlled Works and Restricted Works) is fully compliant with I.S. 10101:2020 – Ireland's National Wiring Rules.
Please note that we must verify that the earthing and bonding arrangements for your installation are adequate for any alterations or additions to your electrical installation in your business or your home (no matter how small). If they are inadequate then this must be rectified as part of the work as these are essential for safety. We can also liaise with the Distribution Network Operator (DNO) or Distribution System Operator (DSO) as appropriate.
We are insured on both sides of the border, fully qualified and regularly assessed by the NICEIC (National Inspection Council for Electrical Installation Contracting) in the north as part of our enrolment in the Approved Contractor Scheme and ECA Contractor Scheme, and routinely inspected by RECI (the Register of Electrical Contractors of Ireland) in the south as part of our registration with the Safe Electric Scheme.
Change of Contractor
In the 26-Counties, should any electrical installation work within the State have been commenced by another contractor then please be aware that you will be required to apply to the Register of Electrical Contractors of Ireland (RECI) – otherwise known as Safe Electric – for a Change of Contractor as per the prescribed procedure. No work can commence until we have received written approval for this request from the Register of Electrical Contractors of Ireland (RECI). Where the Change of Contractor procedure is initiated the electrical installation will in all circumstances also require an inspection by a RECI Inspector before a Completion Certificate can be issued. A cost is payable to RECI for this inspection, and as we are also required to attend the inspection a fee will also be payable to Walsh Electrical Services.
We (or the client) also have the right to request an additional inspection before works commence. There will also be a fee for this where such an inspection takes place.
Our installations also comply with other relevant Standards and Regulations. Make an enquiry now!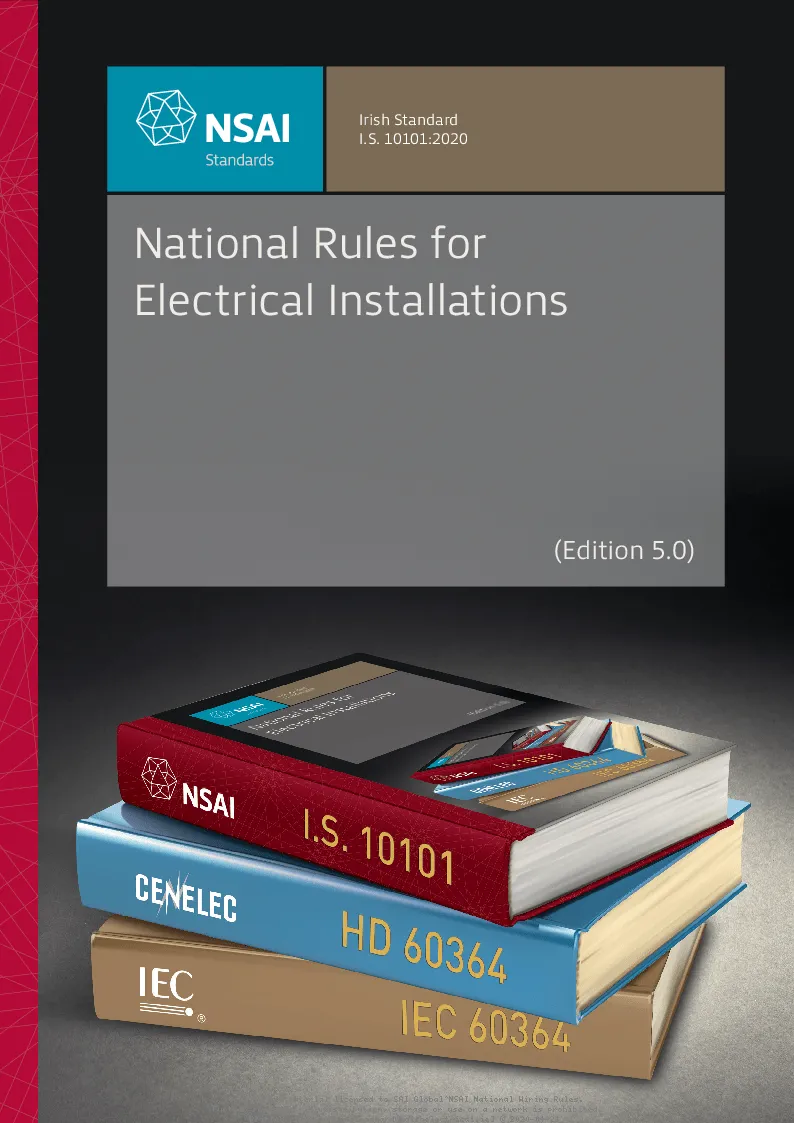 Electrical rewires in Derry & Donegal
All electrical installations deteriorate with age regardless as to how well they were originally constructed. This is true regardless of whether the electrical installation is in a workplace (Industrial or Commercial) or whether it is in household (Domestic) premises.
Should you require either full or partial rewiring then we can carry this out to meet your needs, and in full compliance with the relevant Wiring Rules/Regulations.
Rewiring may also require the involvement of the DSO or DNO (i.e. ESB or NIE). We can advise on this where necessary.
Please be aware that Volume 2 of Technical Guidance Document B to the Building Regulations 2017 issued by An Roinn Tithíochta, Pleanála, Pobail agus Rialtais Áitiúil (the Department of Housing, Planning, Community and Local Government) requires houses in the 26-Counties to have (at a minimum) a fire detection and alarm system meeting the definition of a Grade D, Category LD2 system as per I.S. 3218:2013.
Therefore you will be required to install detectors in at least each of the following locations:


All circulation areas that form part of an escape route within the dwelling, and
All high fire risk areas/rooms e.g. kitchen, living rooms, garages, utility rooms and
All bedrooms.
Smaller works such as additional lighting or socket-outlets, garden lighting or the installation of smoke and/or carbon monoxide detectors - or larger jobs including additional circuits (e.g. for an electric shower), or wiring for a new kitchen can also be delivered to the highest standard.
OLEV & SEAI Electric Vehicle Supply Equipment (EVSE) Installations
We can supply and fit Electric Vehicle Charge Points. Installations are carried out in compliance with BS 7671:2018 (2020) or I.S. 10101:2020/ET 101:2008/A3:2018 and the IET Code of Practice for Electric Vehicle Charging Equipment Installation. Dynamic load management can also be provided where necessary. The DNO/DSO will be notified of the installation where required.
A €600 grant towards the cost can be obtained from the Sustainable Energy Authority of Ireland (SEAI). Visit SEAI for further information about the grant or for further information and eligibility requirements.
As an OLEV (OZEV) Authorised Installer £350 grants are available from the Office for Low Emission Vehicles (Office for Zero Emission Vehicles).
Electric Vehicle Charging Points in Derry & Donegal!
Distribution Board replacement in Donegal & Derry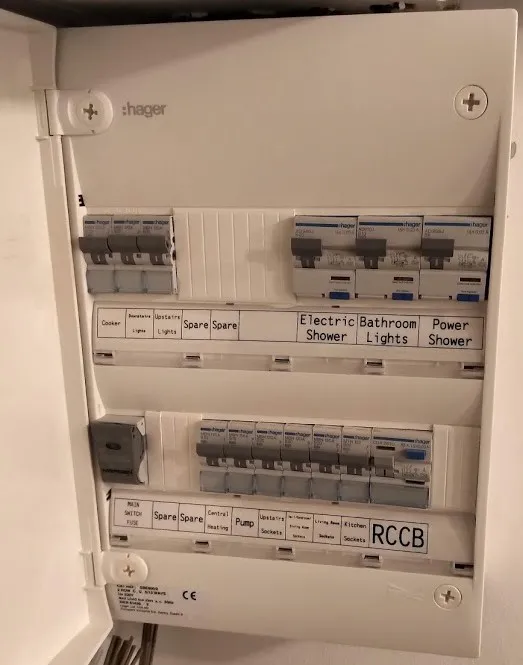 If you need either a new or replacement distribution board (including consumer units and fuseboxes or three-phase DBs) with circuit breaker or MCB protection and RCD protection as appropriate we can do this for you. SPD (surge arrester) and AFDD (arc fault) protection can also be fitted as required. We strongly recommend the installation of Type 2 Surge Protective Devices (SPDs) in most instances, and in many cases they are obligatory. We use only high quality brands including Hager and CP FuseBox.
DSO or DNO involvement may be required in addition to our work depending on the particular installation.
All work is certified upon completion on official NICEIC, ECA or RECI forms. Initial Verification (inspection, testing & certification of new work) is an absolute requirement of both the IET Wiring Regulations and the ETCI/NSAI National Wiring Rules. (N.B. Every electrical installation should also be periodically inspected and tested, and a report on its condition obtained. This is to identify any damage, deterioration or other defects adversely affecting the safety of the electrical installation, and enabling recommendations to be made for subsequent remedial works.)
Do not accept a quote from any enterprise which tells you that this is unnecessary or that it is something that they are unable or unwilling to provide.
We are also an Aico Expert Installer, Rointe Official Installer and a dealer for Infrared Heater Panels.