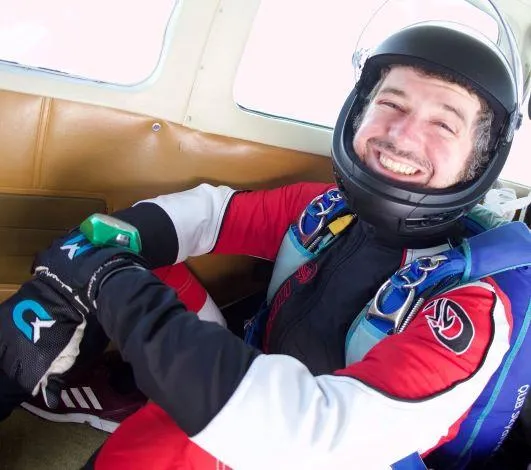 Proprietor's Qualifications
The Proprietor, Richard Walsh TMIET, completed a full Apprenticeship on the JIB Apprentice Training Scheme. He is a Joint Industry Board for the Electrical Contracting Industry (JIB) graded Approved Electrician who holds ECS and CSR cards. Richard also has an IPAF and PASMA licence for Mobile Elevating Work Platforms (MEWPs) and Mobile Access Towers (scaffold). He holds a Qualified Electrician licence on the SparkSafe Licence to Practice scheme (SparkSafe Membership Number: 2013000258) and ECS Registered Electrician status (issued by the JIB).
Additionally, Richard is a Technician Member of the Institution of Engineering and Technology (TMIET).
Richard Walsh holds the position of Principal Duty Holder (PDH) for both our NICEIC and RECI Enrolments. He is also a Qualified Certifier (QC) for the purposes of our RECI Registration, and a Qualified Supervisor (QS) for the purposes of our NICEIC Enrolment. Additionally, he is the Nominated Representative to the ECA.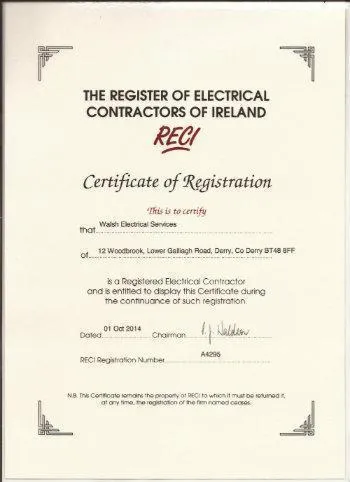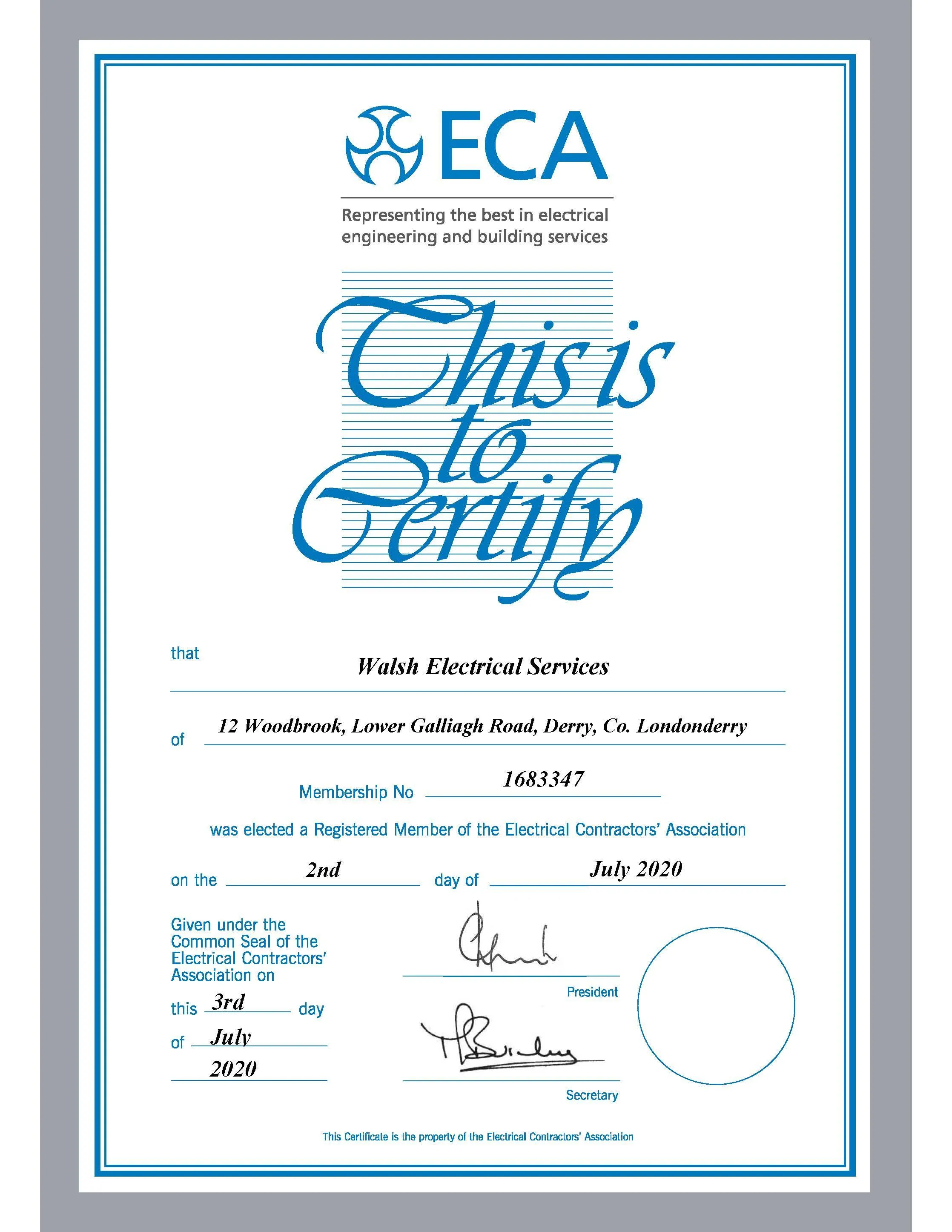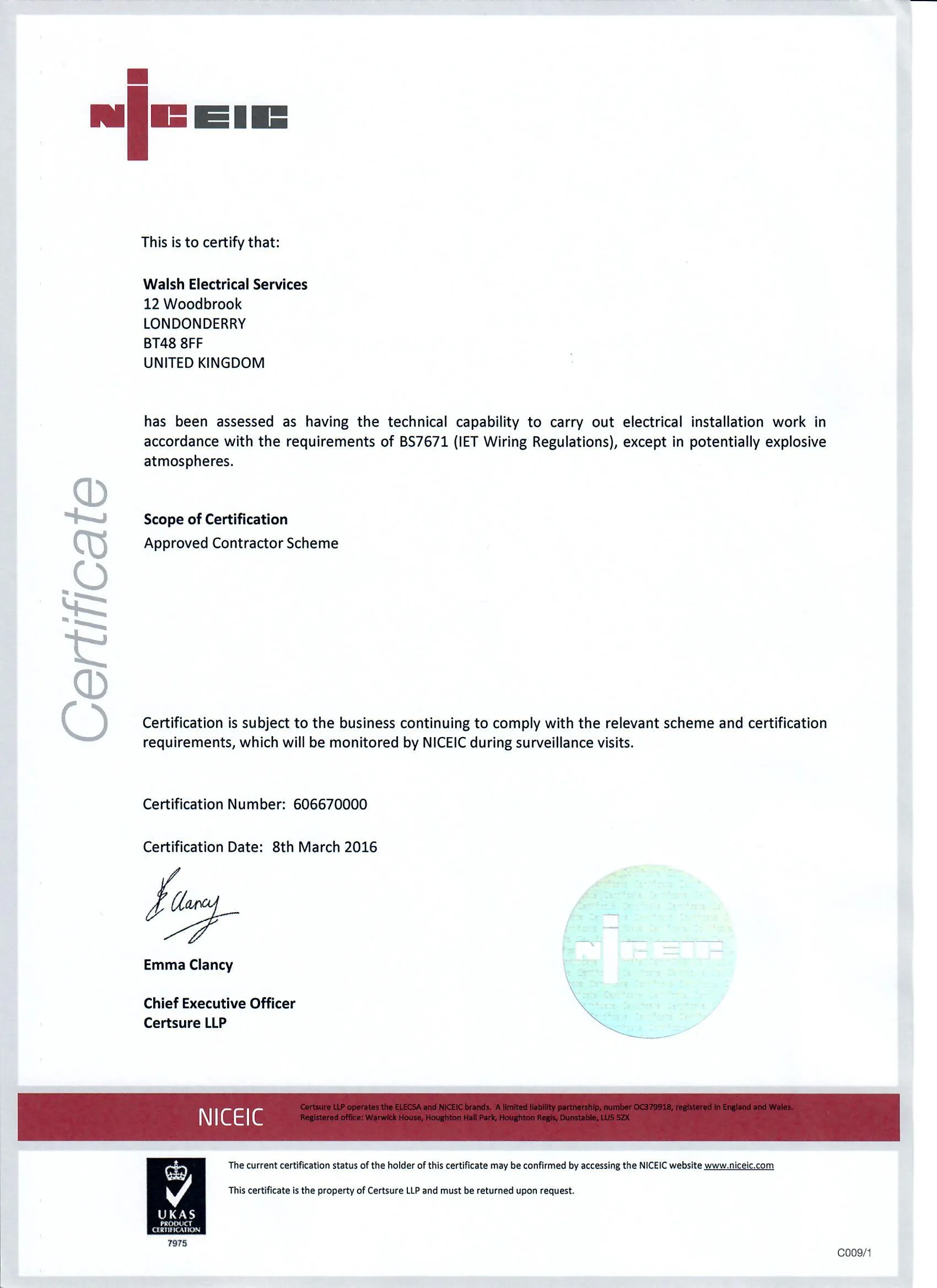 Richard has a number of formal electrical and other relevant qualifications including:
City & Guilds 2351

Level 3 Certificate in Knowledge of Electrical Installation Engineering (7 Distinctions and 1 Credit)

Achievement Measurement 2 (AM2)
City & Guilds 2356

Level 3 National Vocational Qualification in Electrotechnical Services – Electrical Installation (Buildings and Structures)

JIB Completion Diploma
Department for Employment and Learning Modern Apprenticeship Certificate
City & Guilds 2382-10

Level 3 Certificate in Requirements for Electrical Installations (IEE Wiring Regulations, 17th Edition)

City & Guilds 2377-12

Level 3 Certificate in Inspection and Testing of Electrical Equipment (PAT Testing)

City & Guilds 2391-10

Level 3 Certificate in Inspection, Testing and Certification of Electrical Installations

City & Guilds 2391-20

Level 3 Certificate in Design, Erection and Verification of Electrical Installations (Credit)

City & Guilds 2407

Level 3 Certificate in Electrical Testing and Verification of Electrical Installations (Ireland) – renewed every five years as required by the Electrical Safety Supervisory Body (RECI)

City & Guilds 2382-18

Level 3 Award in the Requirements for Electrical Installations BS 7671:2018

Completed Emergency Lighting and Fire Detection and Alarm Systems course
Completed Electrical Estimating course
Completed NICEIC Electric Vehicle Charging training course
JIB Approved Electrician Grading
SparkSafe Qualified Electrician licence
Technician Member of the Institution of Engineering and Technology
Electrotechnical Certification Scheme (ECS) and Joint Industry Board for the Electrical Contracting Industry (JIB) Gold Card
Construction Skills Register (CSR) card
IPAF PAL Operator's licence categories 3a and 3b
PASMA Mobile Access Towers User's licence
Licenced Carrier & Broker of Controlled Waste (upper tier)
CIF Online C19 Induction – the Construction Industry Federation's COVID-19 induction