Walsh Electrical Services: Electrical Excellence in Ireland's North-West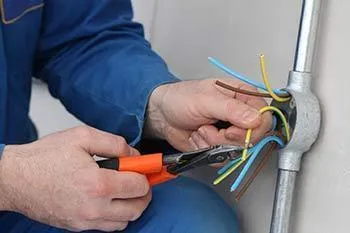 At Walsh Electrical Services we ensure that all electrical installation work that we carry out is completed to the highest standard by fully qualified Electricians. We ensure full compliance with the National Wiring Rules or IET Wiring Regulations, along with relevant Building Regulations and other associated Standards. As a Derry Electrician and a Donegal Electrician (including an Inishowen Electrician) – and also covering other areas, we deliver quality electrical installations wherever you are!
Any electrical installation work in the north (e.g. Derry City) is carried out in full compliance with BS 7671:2018 (2022) Requirements for Electrical Installations – the 18th Edition of the IET Wiring Regulations (previously known as the IEE Wiring Regulations) incorporating Amendment No. 2.
Conversely in the south (e.g. Buncrana and Inishowen) all work is carried out in accordance with I.S. 10101:2020 – the 5th Edition of the National Rules for Electrical Installations (Incorporating Corrigendum 1:2020).
Following the winding-up of the Electro-Technical Council of Ireland (ETCI), the TC2 committee was brought under the remit of the National Standards Authority of Ireland (NSAI). The 5th Edition of the southern Wiring Rules was issued by the NSAI as I.S. 10101:2020. This is now an Irish Standard and a legal document.
The 5th Edition was published on the 6th March 2020. A 28-month transition period began on the 1st April 2020, enabling installations to be designed to the new standard from this date. (Initially there was to be a 24-month transition period, however the dates have been extended by four months due to the COVID-19 pandemic.) Since 1st February 2021 all new installations must be designed and certified to the 5th Edition. Any installation which was designed to the 4th Edition (ET101:2008) by 31st January 2021 was required to be certified to at least a pre-connection stage by 31st July 2022. From 1st August 2022 all electrical installations have had to be certified to the new Rules (5th Edition).
As our emphasis is on high quality and fully compliant solutions with the Wiring Rules or Wiring Regulations (as appropriate) we aim to offer our services at a fair and reasonable price. Unlike unreputable contractors, however, we do not aim to provide our services cheaply. We contend that quality electrical work is not cheap, and that cheap electrical work is invariably of poor quality and very often unsafe and non-compliant with the Technical Rules/Regulations, and as such our pricing may exceed that of our competitors. Should you require a job to be completed at short notice then we will do our best to accommodate this (should our schedule allow), however your job is liable to be charged at a higher rate for this being prioritised over existing scheduled works.
Should cost be your primary concern then we would respectfully suggest that we would not be the best choice of electrical contractor for you, as this would prevent us from completing the works to the very high standards which we insist upon.
Based in Derry City – the capital of the North-West of Ireland – Walsh Electrical Services serves not only Counties Derry and Donegal, but also the rest of the country.
Approved & Registered Electrical Contractor in Derry & Donegal
RECI (Safe Electric) Registered Electrical Contractor – Register of Electrical Contractors of Ireland
Walsh Electrical Services are a RECI (Register of Electrical Contractors of Ireland) and Safe Electric Registered Electrical Contractor (REC). We have been a member of RECI since 1st October 2014.
Since October 2013 only a REC has legally been permitted to carry out any Restricted Electrical Works (otherwise known as Designated Electrical Works) in the south of Ireland. This includes all electrical work in any home within the State other than defined Minor Works. Restricted Electrical Works are therefore Controlled Electrical Works in a domestic setting.
There is no legal exemption for the Owner or Occupier. By law only an REC can carry out the work. Contravention of this law is punishable by a maximum fine of €15,000 and/or imprisonment for up to three years. Several people have already been jailed and/or fined for these offences.
Falsely claiming to be a REC (or acting in a manner likely to suggest that an individual or organisation is a REC without being so registered) is also a criminal offence, and carries the same penalties as those highlighted above.
Additionally, as a member of RECI/Safe Electric we can self-certify any Controlled Electrical Works (also known as Specified Works) – including in non-domestic premises (e.g. industrial, commercial or agricultural installations). Controlled Electrical Works require certification by law.
Electricians in Donegal
We provide a complete range of electrical services to businesses and homes in Inishowen, Letterkenny, and other parts of County Donegal. All works are subject to Irish Value-Added Tax (VAT) at the prevailing rate. (At time of writing, this is generally 13.5% VAT for Services (subject to the two-thirds rule), however the Standard VAT rate of 23% can also apply in some other instances, as detailed by Revenue: "Excludes wiring work beyond powerpoints, fuseboards and lampholders, such as wiring-up electric cookers, (which is liable at the Standard rate).". See https://www.revenue.ie/en/vat/vat-rates/search-vat-rates/E/electrician-services-work-on-fixtures-private-dwellings-nonresidential-immovable-goods-.aspx for further information.)
Contact us if you need RECI Electricians in Donegal.
NICEIC Approved Contractor – National Inspection Council for Electrical Installation Contracting
We are also an NICEIC (National Inspection Council for Electrical Installation Contracting) Approved Electrical Installation Contractor. We have been enrolled on the NICEIC Roll of Approved Contractors since 8th March 2016.
We provide certification and reporting on NICEIC forms as required by many clients. Additionally, our work is covered by the NICEIC Platinum Promise - a guarantee for six years from the date of completion of the work up to a value of Stg £25,000.
Electricians in Derry
We provide a complete range of electrical services to businesses and homes in Derry City and other parts of County Derry and surrounding areas.
Contact us if you need NICEIC/ECA Electricians in Derry.
ECA Registered Member – Electrical Contractors' Association
Walsh Electrical Services are a member of the Electrical Contractors' Association (ECA). We were elected a Registered Member of the Electrical Contractors' Association on 2nd July 2020.
As an ECA Member, our business is independently technically assessed, on a regular basis. This ensures that we manage, supervise and carry out our work to the required technical standards with the necessary skill, knowledge and experience. We are, therefore, pleased to share our Technical Compliance Certificate with our customers to demonstrate the areas of electrotechnical work where our business has been successfully technically assessed.
ECA also offers a guarantee and an insurance-backed warranty and bond which its Members can provide to their clients at no charge*. These provide assurances that the work our business carries out, in line with our Technical Compliance Certificate, will meet the relevant industry technical standards and in the case of the Bond it provides indemnity for the client, in the unlikely event that the work is not duly completed.
Finally, in addition to our own in-house capability, our business has ready access to professional technical support from the ECA across a broad range of electrical and other electrotechnical matters. ECA also provides us with access to professional health and safety, environmental, and employment and skills support via dedicated helplines and our 'Members Only' area of the ECA website.
*Please see the terms and conditions, available on request.
By engaging a Registered Member of the Electrical Contractors' Association you will also benefit from the ECA Code of Fair Trading which is in addition to, and shall not detract from, your legal and statutory rights.
At Walsh Electrical Services we provide many and varied electrical services.
This includes electrical installations to BS7671 and electrical installations to I.S. 10101 including (but not limited to) Electric Vehicle Supply Equipment (EV charge point) installations. Whether small or large works are required we can cater for all of your needs. Please contact Walsh Electrical Services to arrange this!
Periodic inspection and testing to either BS7671 or I.S. 10101 (as appropriate) is another service which we offer. This is used to ascertain whether any electrical installation for which you are responsible is in a safe and satisfactory condition and is suitable to remain in service. We can advise on any remedial work necessary to bring an Unsatisfactory installation into a Satisfactory state along with any other recommended improvements. As no electrical installation work has been completed the document which you receive following this is a report rather than a certificate. (You will receive an Electrical Installation Condition Report or Periodic Inspection Report.)
We also provide a Portable Appliance Testing (PAT) service to ensure that any electrical equipment is safe to connect to the electricity supply. (N.B. The PAT testing process is more correctly known as In-service Inspection and Testing of Electrical Equipment and therefore is not confined to portable appliances, nor to appliances connected via a plug and socket arrangement.)
Additionally, we also carry out Subcontract work. Walsh Electrical Services are a Construction Industry Scheme (CIS) and Relevant Contracts Tax (RCT) registered Subcontractor.
Our experience is wide-ranging, including in industrial; commercial; domestic; agricultural, and non-domestic Solar Photovoltaic (PV) installations; EV Charging Equipment installations; maintenance; inspection and testing both of the fixed installation and appliances, and in both private sector and public sector contracts. We also have extensive experience of Emergency Lighting installations to both BS 5266-1 and I.S. 3217 and Fire Alarm installations to BS 5839-1/BS 5839-6 and I.S. 3218 – the relevant British Standards and Irish Standards respectively for such installations.
We are able to accept payments in Pounds Sterling (Stg £) or Euro (€) as appropriate to each jurisdiction, and are fully tax compliant.
If you need an NICEIC Electrician in Derry or elsewhere in the north, a RECI Electrician in Donegal or elsewhere in the south, an ECA Registered Member, or require any further information, or an estimate or quotation for any electrical work, then please do not hesitate to contact Richard on either +44-7835 620 592 (North) or +353-87 261 8603 (South); landline (048) 7126 0814 by facsimile (fax) on (048) 7126 0818, or e-mail This email address is being protected from spambots. You need JavaScript enabled to view it.
Alternatively you can write to us at our Head Office in the Cityside of Derry City (just off the Buncrana Road) – close to the border with Bridgend in the Inishowen Peninsula of County Donegal. We are situated just 11 miles from Buncrana and less than 20 miles from Letterkenny.