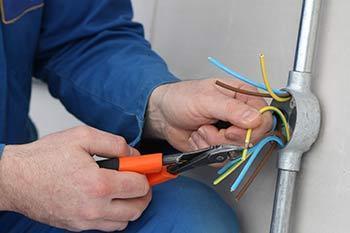 About Walsh Electrical Services
At Walsh Electrical Services we ensure that all of the electrical installation work that we carry out is completed to the highest standard by fully qualified Electricians and in full compliance with the appropriate Wiring Rules or Wiring Regulations, along with relevant Building Regulations and other associated Standards. As a Derry Electrician and a Donegal Electrician, and covering other areas too, we deliver quality electrical installations wherever you are!
Any electrical installation work in the north is carried out in accordance with BS 7671:2008 (2015) Requirements for Electrical Installations - the 17th Edition of the IET Wiring Regulations (also known as the IEE Wiring Regulations) incorporating Amendment No. 3. (N.B. The 18th Edition is due to be published in 2018.)
Conversely in the south (e.g. Buncrana and Inishowen) all work is carried out to comply with ET101:2008/A2:2016 - the 4th Edition of the ETCI National Rules for Electrical Installations incorporating Amendment No. 2. (This includes amendments numbers 1; 2.1; 2.2 (implemented on 5th September 2017) and 2.3.) This will soon become I.S. 10101 which will be an NSAI publication and an Irish Standard.
Based in the North-West of Ireland, we serve not only Counties Derry and Donegal but also the rest of the country.
Approved Contractor & Registered Electrical Contractor in Derry & Donegal
RECI (Safe Electric) Registered Electrical Contractor
Walsh Electrical Services is a RECI (Register of Electrical Contractors of Ireland) and Safe Electric Registered Electrical Contractor (REC). We have been a member of RECI since 1st October 2014.
Since October 2013 only an REC can legally carry out any Restricted Electrical Works (otherwise known as Designated Electrical Works) in the south of Ireland – which includes all electrical work in your home other than defined Minor Works. Restricted Electrical Works are therefore Controlled Electrical Works in a domestic setting.
There is NO legal exemption for the Owner or Occupier. By law only an REC can carry out the work.
In addition, as a member of RECI we can self-certify any Controlled Electrical Works (also known as Specified Works), including in non-domestic premises. Controlled Electrical Works legally require certification.
NICEIC Approved Contractor
We are also an NICEIC (National Inspection Council for Electrical Installation Contracting) Approved Electrical Installation Contractor. (Roll of Approved Contractors Certificate of Enrolment dated 8th March 2016.)
We provide certification and reporting on NICEIC forms as required by many clients. Additionally, our work is covered by the NICEIC Platinum Promise - a guarantee for six years from the date of completion of the work up to a value of Stg £25,000.
At Walsh Electrical Services we provide many and varied electrical services.
This includes electrical installations to BS7671 and electrical installations to ET101. Whether small or large works are required we can cater for all of your needs. Please contact Walsh Electrical Services to arrange this!
Periodic inspection and testing to either BS7671 or ET101 (as appropriate) is another such service. This is used to ascertain whether any electrical installation for which you are responsible is in a safe and satisfactory condition and is suitable to remain in service. We can advise on any remedial work necessary to bring an Unsatisfactory installation into a Satisfactory state along with any other recommended improvements.
We also provide a Portable Appliance Testing (PAT) service to ensure that any electrical equipment is safe to connect to the electricity supply. (N.B. The PAT testing process is more correctly known as In-service Inspection and Testing of Electrical Equipment and therefore is not confined to portable appliances, nor to appliances connected via a plug and socket arrangement.)
Additionally, we also carry out Subcontract work, and are a CIS (Construction Industry Scheme) registered Subcontractor.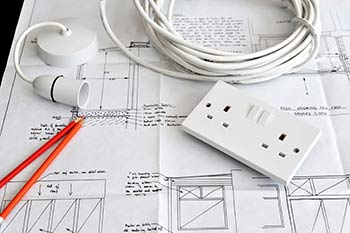 Our experience is wide-ranging, including in industrial; commercial; domestic; agricultural, and non-domestic Solar Photovoltaic (PV) installations; maintenance; inspection and testing both of the fixed installation and appliances, and in both public and private sector contracts. We also have extensive experience of Emergency Lighting installations to both BS 5266-1 and IS 3217 and Fire Alarm installations to BS 5839-1/BS 5839-6 and IS 3218 - the relevant British Standards and Irish Standards respectively for such installations.
We are a member of the British Standards Institution (BSI).
If you need an NICEIC Electrician in Derry or elsewhere in the north, a RECI Electrician in Donegal or elsewhere in the south, or require any further information or a quotation for any electrical work then please do not hesitate to contact Richard on either +44-7835 620 592 (North) or +353-87 261 8603 (South); landline (048) 7126 0814 by facsimile (fax) on (048) 7126 0818, or e-mail This email address is being protected from spambots. You need JavaScript enabled to view it.
Alternatively you can write to us at our Head Office in the Cityside of Derry City (just off the Buncrana Road) - close to the border with Bridgend in the Inishowen Peninsula of County Donegal. We are situated just 11 miles from Buncrana and less than 20 miles from Letterkenny.